Yes
NTP Server, GPS-Synchronized, Dual Gigabit Ports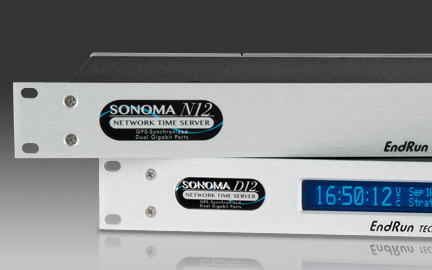 Sonoma is a third-generation NTP Server that provides an accurate, reliable and secure source of network time inside your firewall. It supports hundreds of thousands of Network Time Protocol (NTP) or Simple Network Time Protocol (SNTP) clients. Sonoma is supported with a money-back guarantee, a three-year warranty and free technical support for life.
Two 10/100/1000 Base-T Ethernet ports.
GPS Receiver Accuracy: < 25 nanoseconds RMS to UTC(USNO) when locked.
7,500 NTP packets/second with < 10 microsecond NTP timestamp accuracy.
Supports hundreds of thousands of network clients.
View and correlate data plots with NTP, CPU and Oscillator statistics.
IPv4 and IPv6 compliant.
NTP, SNTP, HTTPS (Web Interface), SNMP, SSH, MD5, TELNET, FTP, DHCP and more.
User-friendly display & keypad with built-in help messages (Sonoma D12 only).
Free technical support for life.
Options: Oscillator Upgrades, Dual Power Supplies, Alarm, Timecode, 1PPS, Pulse Rates, Sysplex, -48Vdc, PTP/IEEE-1588 Grandmaster and more.
Easy to Install and Maintain
Network installation is done in just a few minutes using DHCP. Or, with Sonoma D12, you can configure the unit with a few simple keystrokes on the front-panel keypad/display. Monitoring, maintenance and control is easily and securely accomplished via a wide range of protocols including SNMP v3 and SSH.
Network-Security Hardened
Extra care has been taken with the Sonoma to "harden" it against network attacks. There are only a small handful of settings that need to be made and they typically need to be set only once in the lifetime of the product. Since this is a set-it-and-forget-it box we have eliminated all extraneous protocols/services in order to minimize exposure to security holes.  You can change critical settings over the network using SSH or Telnet and monitor the alarm/status information by using HTTPS, SNMP, SSH or Telnet. Security-conscious users can disable any of the risky protocols or restrict access to specific hosts.
Web Interface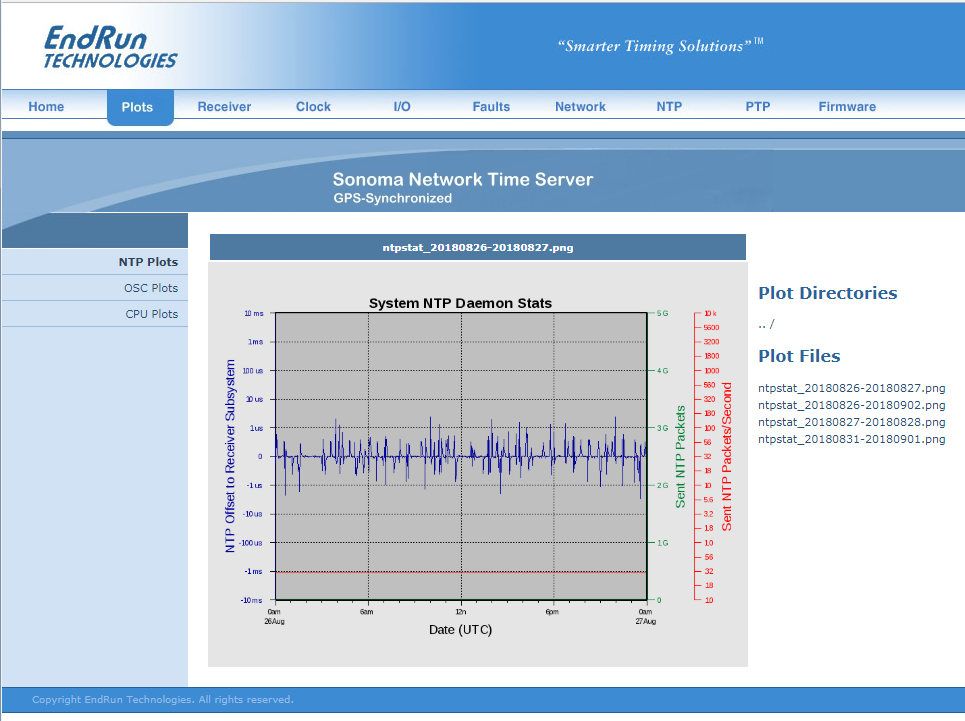 A wealth of information is available via the Sonoma Web Interface:
Monitor status.
View configuration.
Easily upgrade firmware.
View and correlate data plots with NTP, CPU and Oscillator statistics.
Security-conscious users can choose to completely disable the Web Interface (HTTPS).
Data Plots
While providing precise time to the network, the Sonoma is saving status information not only to the typical log files (Syslog), it also stores daily and weekly status plot files for the CPU, NTP and Oscillator. All of the plot files are available via the Web Interface and can be downloaded from the server as .png files.
Extended Stratum 1 Operation if Signal Lost
If your GPS signal is lost, then Sonoma will continue to serve Stratum 1 time for awhile. This is called the holdover period and is dependent upon the quality of the oscillator and the quality of the software control algorithms. Click here to see some reasons for signal loss.
The basic Sonoma D12 is provided with a TCXO. If the signal is lost it will drift away from perfect time at the rate of 10 milliseconds during the first day. For better holdover performance you may want to consider an oscillator upgrade. Oscillator drift rates and Stratum 1 holdover periods are listed below:
| | | |
| --- | --- | --- |
| Oscillator | Drift Rate If No GPS Signal | Stratum 1 Holdover Period |
| TCXO | 10 milliseconds for 1st day | 24 hours |
| Premium OCXO | 80 microseconds for 1st day | 35 days |
| Rubidium | 5 microseconds for 1st day | 140 days |
Best Window-Mount Antenna Performance
If a rooftop antenna is difficult for you, then mounting your GPS antenna in a window is an option. We recommend an OCXO for window-mount antenna installations.  With this holdover performance - your antenna needs to lock to the GPS signal only once a month in order to continue serving accurate Stratum 1 time to your network.  Click here to read about window-mount antenna installations.

Product Resource - Installation Guides
Product Resource - User Manuals
Product Resource - Datasheets
Product Resource - White Papers