Yes
GPS-Synchronized, Compact and Portable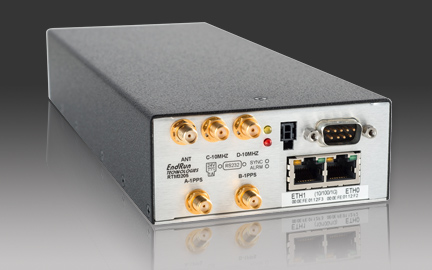 The RTM3205 Precision Timing Module is a compact time and frequency standard designed for portable, battery-powered systems.  It provides time & frequency outputs with unprecedented accuracy and stability performance in a compact module.  And, with the Real-Time Ionospheric Corrections (RTIC) Option, RTM3205 can exceed the stability of a cesium atomic frequency reference.
Timing accuracy < 10 nanoseconds RMS to UTC(USNO).
Ultra-Stable OCXO (short-term stability at 1 second < 6x10-13).
Frequency accuracy better than 6x10-14 at 100,000 seconds.
No frequency steps - guaranteed.
Dual-gigabit, IPv4/IPv6 Ethernet network ports and RS-232 serial port.
High-bandwidth NTP server (7500 packets per second).
Security-hardened network interface and protocols.
Low power < 10 watts
Two-year warranty, free software upgrades and free technical support for life.
Optional PTP/IEEE-1588 Grandmaster.
Up to four time and frequency outputs including 1PPS and Low Phase Noise Outputs.
Other Options: High-Stability OCXO, Ultra-Stable OCXO, RTIC, Pulse Rates, Alarm, Time Codes, and more.
Web Interface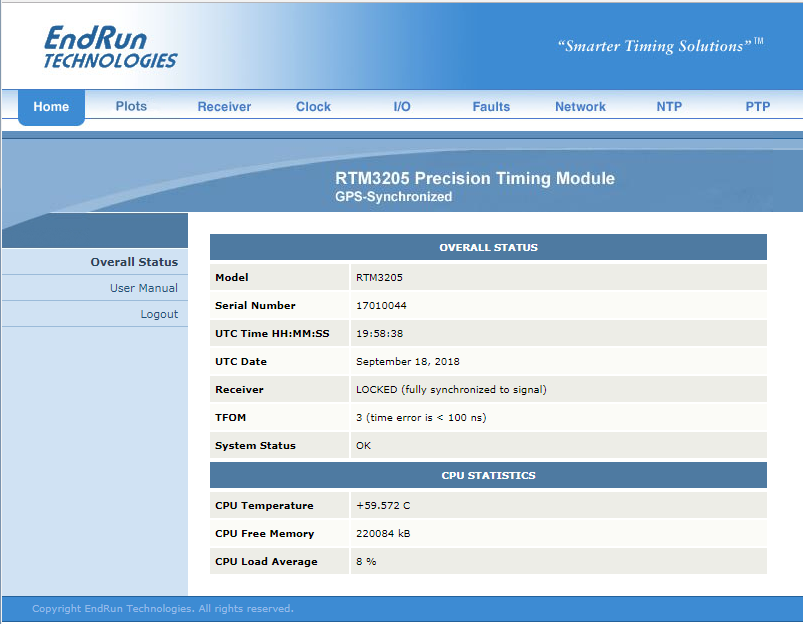 Status monitoring can be easily accomplished by pointing your web browser to the RTM3205.  Here is an example of one of the status pages.  You can also perform software upgrades with the Web Interface.  For security-conscious users, HTTPS can be completely disabled.
Oscillator Options
RTM3205 can be configured with a medium-stability, high-stability, or ultra-stable OCXO.  No frequency steps - guaranteed.  See details in the Oscillator Options datasheet.
Optional Outputs
These outputs provide additional flexibility in configuring your RTM3205 Precision Timing Module:
One or two low-phase-noise 10 MHz outputs.
Pulse Rates from 1 PPS to 10M PPS.
Open-Collector Alarm
Time Codes (AM or DC)

Product Resource - Installation Guides
Product Resource - User Manuals
Product Resource - Datasheets