No
NTP-Synchronized Digital Clocks Provide Highly Visible Time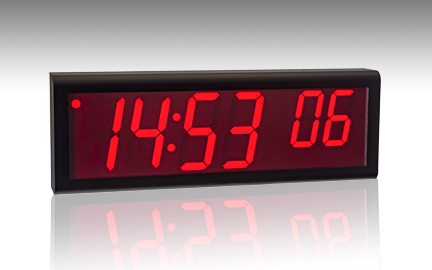 This Wall Clock uses the Network Time Protocol (NTP) to keep perfect time and the 4-inch numbers are easily visible from over 150 feet away. Just mount it on the wall, plug it into an ethernet jack and the address will be automatically set by DHCP. Then use Telnet to set up the address of your NTP server and that's it.
$575 USD 
Time updates automatically over the network using NTP (Network Time Protocol).
PoE - Power over Ethernet (IEEE 802.3af).  (A power supply is available if you don't have the PoE standard in your network.)
Red LED seven-segment display with 6 digits for hours, minutes, and seconds.
4-inch numerals, visible over 150 feet (50 meters).
Overall size is 17.5"W x 6"H x 2.25"D.
10/100 Base-T Ethernet compatible.
DHCP required for initialization.
Telnet control for: IP configuration, NTP server address, Time zone offset from UTC, Daylight Saving Time, 12/24-hour format, Status reporting.
UL 1950, ETL Listed, CE Marked.