No
For Distributing High-Frequency (100 kHz to 30 MHz) Sine Waves with Very Low-Phase Noise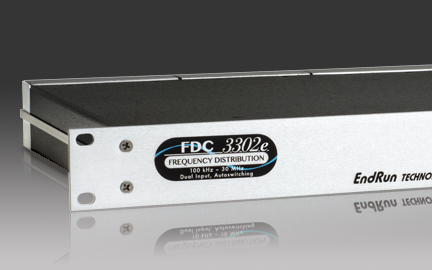 Our FDC3302e is a high-performance RF distribution amplifier in a 1U rackmount chassis. It provides 10 copies of an input signal and has state-of-the-art isolation and phase-noise performance. Fault sensing is provided on all inputs and outputs, and status is easily visible via front-panel LEDs.
Single Input or Dual Inputs with Autoswitching.
10-Channel, Broadband (100 kHz to 30 MHz) Sine Wave Distribution.
Very Low Added Phase Noise.
Very High Port-to-Port Isolation.
Very Low Distortion.
Ethernet Port for Remote Control and Monitoring.
RS-232 Port for Control and Monitoring.
Alarm Input.
MTBF up to 30 Years.
Dual-Redundant AC or DC Power Supply Option.
High-Reliability
Designed for mission-critical applications, the FDC3302e is based on a high-reliability platform with a conservative MTBF up to 30 years. The product is made in America, supported with free software upgrades, and free technical support for life. This results in the lowest total cost of ownership in the industry and is backed by our Satisfaction Guarantee!
Isolation and Phase Noise
We have two different Frequency Distribution Chassis models.  The FDC3300e is our basic model with a frequency range of 10 kHz to 10 MHz.  Our FDC3302e has state-of-the-art isolation and phase noise performance (see graphs below) along with an upper frequency limit of 30 MHz.
Product Resource - User Manuals
Product Resource - Datasheets
Product Resource - White Papers