No
High-Performance Broadband Optical Link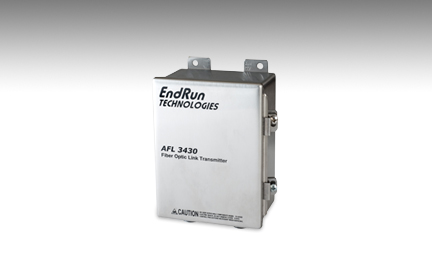 The AFL3430 is a broadband optical link with wide dynamic range for RF applications.  It is an ideal solution for GPS receiver installations that require either extended antenna cable runs, enhanced lightning protection, or Tempest (RED/BLACK) isolation.
+30 to +15 dB Link Gain.
+25 dB Noise Figure.
300 to 2500 MHz Bandwidth.
Operation down to 50 MHz with degraded input impedance match.
For Fiber Cable up to 5km (3 miles) in Length.
1310 nm Optically Stabilized, Low-Noise Laser.
Integrated Bias-T for +5VDC Antenna/Preamplifier Powering.
High-Quality, Stainless Steel, NEMA4 Enclosure for Outdoor Use.
1U Rackmount Enclosure for Indoor Use.
The Fiber Optic Link can be configured with a weatherproof, stainless-steel outdoor transmitter or a 1U rackmount indoor transmitter.  It can also be configured to operate with one transmitter powering two receivers, reducing system cost in many applications.
Optical Transmitter
A broadband, low-noise amplifier ahead of the optical transmitter increases the link gain and lowers the link noise figure.  The optical transmitter uses a high-performance, linear laser operating at 1310 nm over 8/125 um singlemode fiber.  Designed for superior stability, the laser incorporates optical power feedback to actively adjust the laser for optimal linearity and constant power output over temperature and lifetime.  An integrated bias-T provides current-limited +5VDC power via the center conductor of the RF input connector to power an upstream active antenna or inline preamplifier.
Optical Receiver
The receiver uses a high-bandwidth, low-distortion diode photodetector.  A laser and optical power monitor is provided that indicates an alarm condition when the optical signal is absent.  Many GPS timing receivers sense the DC current draw on the antenna feed to determine its status.  The AFL3430 Fiber Optic Link seamlessly simulates this by presenting a 274 ohm DC resistance to ground when the optical link status is good, and a DC open circuit on optical link failure or disconnect.
Product Resource - User Manuals
Product Resource - Datasheets