No
For Distributing Low-Frequency Sinewaves (100 Hz to 100 kHz)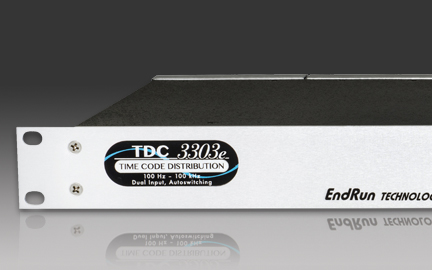 Our TDC3303e Distribution Chassis is a 10-channel distribution amplifier in a 1U chassis. The TDC provides 10 isolated copies of an input signal and is ideal for time code distribution. Fault sensing of signal levels is provided on all inputs and outputs, and fault status is easily visible via front-panel LED indicators.
Single Input or Dual Inputs with Autoswitching.
10-Channel, Low-Frequency (100 Hz to 100 kHz) Sine Wave Distribution.
High Port-to-Port Isolation.
Very Low Distortion.
Ethernet Port for Remote Control and Monitoring.
RS-232 Port for Control and Monitoring.
Alarm Input.
MTBF up to 30 Years.
Dual-Redundant AC or DC Power Supply Option.
Autoswitching
TDC3303e (TDC) can be configured for single or dual input operation. With two inputs, the TDC will continuously monitor both signals. If one of the inputs is removed or the amplitude is greatly reduced it will automatically switch to the other input. This failover feature ensures that your critical signals are always present if one of the inputs become unavailable or its level is compromised.
Alarm Input
The TDC is compatible with the alarm output signal from the Meridian II and Tycho II Precision TimeBase. If one of these units is sourcing the TDC and its alarm output goes active, then the TDC will automatically switch to the backup source. Bank switching is supported.
High-Reliability
Designed for mission-critical applications, the TDC3303e is based on a high-reliability platform with a conservative MTBF up to 36 years. The product is made in America, supported with free software upgrades and free technical support for life. This results in the lowest total cost of ownership in the industry and is backed by our Satisfaction Guarantee!
Product Resource - User Manuals
Product Resource - Datasheets