No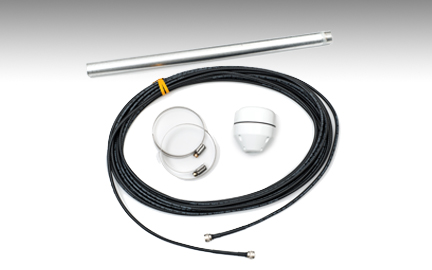 This Antenna Kit with 50 ft. of cable is included free with Sonoma, Meridian II, and Tycho II GPS based instruments and is optional with Ninja Precision Timing Modules.   The high-precision GPS Antenna provides 40 dB of gain with very high out-of-band rejection performance.  Selected specifically for its excellent group delay flatness and unit-to-unit repeatability, the quality of this antenna is critical in delivering 10-nanosecond-level time transfer from our industry-leading products. 
Weatherable polymer, all-plastic, non-corrosive, enclosure.
Noise Figure: 2.5 dB Max.
Group Delay Flatness: < 2 ns peak-peak 1575.42 MHz +/- 1 MHz.
Band Rejection: 30 dB @ 1535 MHz, 60 dB @ 1615 MHz.
Voltage Range 2.5 to 5 V.
Will drive up to 250 feet of factory-supplied cable.  For cables lengths greater than 250 feet, a GPS preamplifier is required. 
Product Resource - Installation Guides