Yes
Our Premium GPS Time & Frequency Standard for Unmatched Accuracy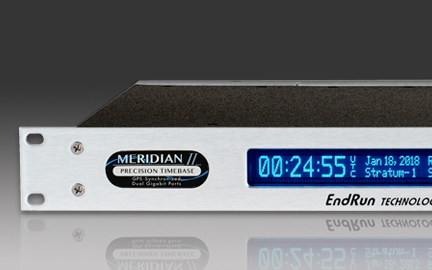 The Meridian II Precision TimeBase is a modular, network-centric, time & frequency standard that provides the most precise and stable, GPS-synchronized, time & frequency outputs in the world. Unlike our competitors, we fully specify the performance of Meridian II and back it up with published data measured at NIST.
1 PPS timing output accurate to < 10 nanoseconds RMS to UTC(USNO).
Frequency accuracy better than 6x10-14 (at 100,000 seconds).
No frequency steps - guaranteed.
MTBF up to 30 years.
Dual-gigabit, IPv4/IPv6 Ethernet network ports.
1PPS, time code output and RS-232 serial port.
High-bandwidth NTP server (7500 packets per second).
User-friendly display & keypad with built-in help menus.
Security-hardened network interface and protocols (SSH, HTTPS, SNMP V3).
Optional PTP/IEEE-1588 Grandmaster.
Real-Time Ionospheric Corrections (RTIC) Option for the ultimate in long-term stability.
Two-year warranty, free software upgrades and free technical support for life.
Modular, plug-and-play architecture supports up to 23 outputs in a 1U chassis or 36 outputs in a 2U.
Options: OCXO, Rubidium, Low Phase Noise Outputs, Telecom Outputs, Pulse Rates to 10 MPPS, additional Time Code Outputs, Alarm, -48 VDC Power, and more.
We Fully Specify Meridian II Performance
We fully specify the performance of our products and we back it up with measured data and a test report from the National Institute of Standards & Technology (NIST). None of our competitors fully specify their product or publish third-party data from a national standards lab.
EndRun's GPS Receiver
At the core of the Meridian II is our proprietary, time-and-frequency-optimized, GPS receiver that provides industry-leading time accuracy (< 10 nanoseconds RMS) and frequency accuracy (< 6x10-14 at 100,000 seconds) to UTC. For ultimate performance, the innovative Real-Time Ionospheric Corrections (RTIC) option compensates for ionospheric delay in real-time that meets the performance of L1/L2 solutions. Meridian II can be configured with our individually-characterized ovenized oscillator options and provide spectrally pure 5 MHz or 10 MHz outputs with state-of-the-art phase noise performance (< -113 dBc @ 1 Hz offset at 10 MHz).
High-Reliability
Designed for mission-critical applications, Meridian II is based on a high-reliability, fanless platform with a conservative MTBF of up to 30 years. The product is made in America, supported with free software upgrades, and free technical support (if needed). This results in the lowest total cost of ownership in the industry and is backed by our Satisfaction Guarantee!

Network-Centric
The network-centric Meridian II provides dual-gigabit Ethernet ports that are security hardened to meet the highest Information Assurance (IA) requirements. A built-in stratum 1, Network Time Protocol (NTP) server is enabled with a high-performance packet timing engine (7500 NTP packets per second). An optional PTP/IEEE-1588 Grandmaster provides specialized PTP hardware timestamping (8-nanosecond resolution).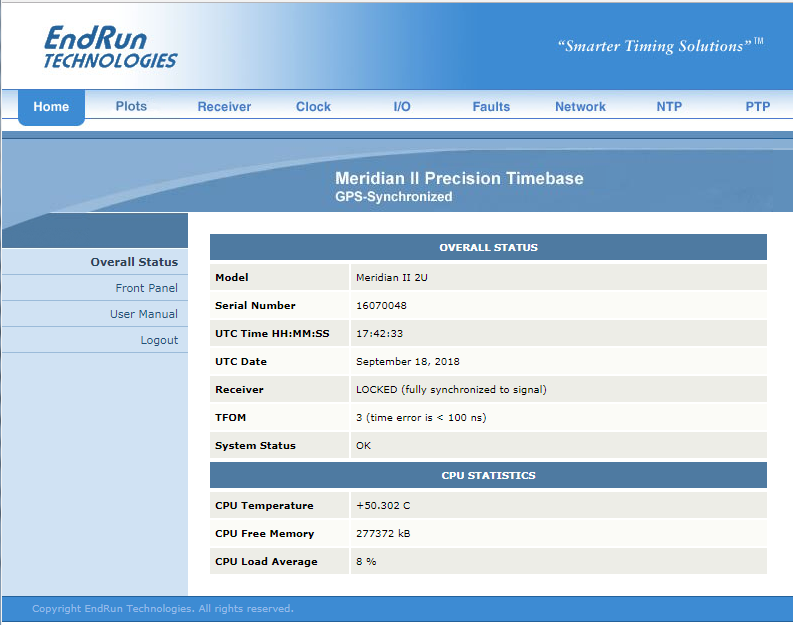 Product Resource - Installation Guides
Product Resource - User Manuals
Product Resource - Datasheets
Product Resource - White Papers