No
Our Basic GPS Time & Frequency Reference for Precision and Accuracy



Designed for mission-critical applications, Tycho II is based on a high-reliability, fanless platform with a conservative MTBF of up to 30+ years. Tycho II provides the most precise and stable, GPS-synchronized, time & frequency outputs in its class.  It is made in America, supported with free software upgrades, and free technical support (if needed). This results in the lowest total cost of ownership in the industry and is backed by our Satisfaction Guarantee!
Modular, plug-and-play architecture supports up to 5 option modules in a 1U chassis.
1 PPS timing output accurate to < 25 nanoseconds RMS to UTC(USNO).
Frequency accuracy better than 6x10-14 at 100,000 seconds.
No frequency steps - guaranteed.
MTBF up to 30+ years.
Dual-gigabit, IPv4/IPv6 Ethernet network ports.
High-bandwidth NTP server (7500 packets per second).
Security-hardened network interface and protocols.
Optional PTP/IEEE-1588 Grandmaster.
Time code output and RS-232 serial port.
Two-year warranty, free software upgrades and free technical support for life.
Options: OCXO, Rubidium, Low Phase Noise Outputs, Telecom Outputs, Pulse Rates to 10 MPPS, additional Time Code Outputs, Alarm, -48 Vdc Power, and more.
Web Interface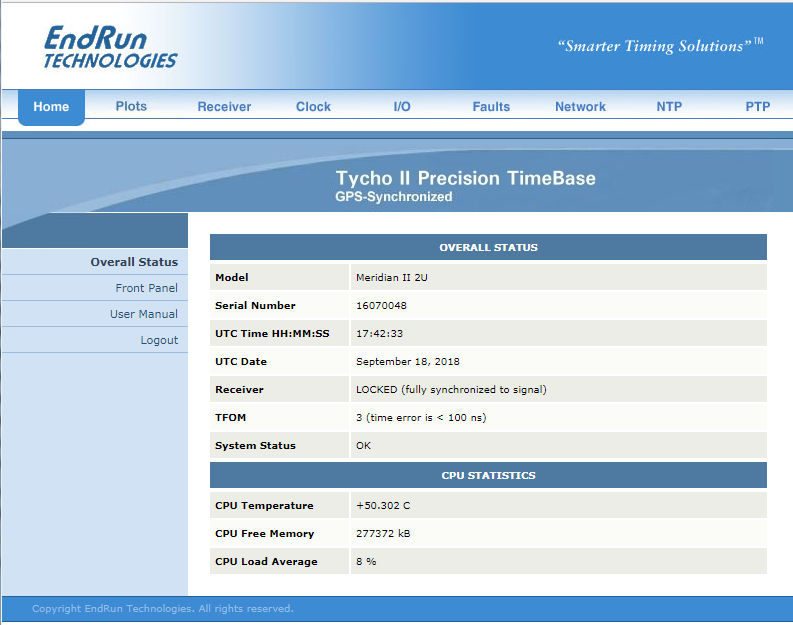 Status monitoring can be easily accomplished by pointing your web browser to the Tycho II.  Here is an example of one of the status pages.  You can also perform software upgrades with the Web Interface.  For security-conscious users, HTTPS can be completely disabled.
Oscillator Options
The Tycho II can be configured with a medium-stability, high-stability, or ultra-stable OCXO with SC-cut resonator. No frequency steps - guaranteed. Rubidium oscillator options are also available for optimum holdover performance. See pages 8 & 9 of the Tycho II Options datasheet.
Low Phase Noise (LPN) Output Option
This option provides four to 20 isolated, 5 or 10 MHz, frequency output signals with exceptional spectral purity.  Careful attention to power supply filtering and signal routing preserve the same high-performance phase noise and spurious noise characteristics as the source oscillator.  See pages 6 & 7 of the Tycho II Options datasheet.
Telecom Clock Output Option
This option module provides two or four outputs which can be any combination of E1, T1 or Composite Clock.  An alarm output is available as an additional option.  SSM is supported.  See page 4 of the Tycho II Options datasheet.
More Options
Several other output options are available - see the Tycho II Options datasheet for details. These outputs provide additional flexibility in configuring your Tycho II Precision TimeBase:
Up to 21 programmable pulse rate outputs.
Up to 21 buffered analog time code outputs.
Up to 21 direct digital synthesizer (DDS) outputs.
An alarm output.
A second serial port with a once-per-second, on-time, serial timestring.
And more...

Product Resource - Installation Guides
Product Resource - User Manuals
Product Resource - Datasheets
Product Resource - White Papers